Cav Cell  is the Top Quality Group device that can be defined as the non-invasive alternative to liposuction. The equipment is designed according to the latest technical and scientific knowledge, and implements a widely tested method in the medical-aesthetic field, such as Cavitation. Cav Cell is the answer to patients wishing to achieve personalised body remodelling through the implementation of effective protocols in utter safety; the innovative characteristics of this technology make it possible, in fact, to treat cellulite and localised adiposity of the whole body in a non-invasive way.
Cellulite blemishes, orange peel skin, accumulation of fat on the hips, abdomen, arms, buttocks, thighs
Cavitation
It is a technology that carries out its action through the emission of ultrasonic waves; the ultrasound energy delivered by the transducer is transformed into mechanical energy, triggering various physical-chemical phenomena. This increases intracellular pressure causing the rupture of the adipocyte cell membrane, which releases the adipose content within. The thermal, cavitational and mechanical effects of the ultrasounds therefore determine a decrease in the volume/number of adipocytes.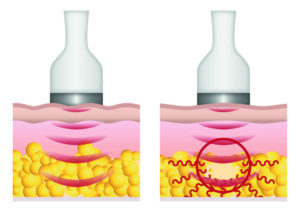 All transducers feature the ECO SCAN DETECTOR function to determine the optimal power and frequency values calculated based on the target tissue. The system detects and quantifies the sonic absorption and thereby modulates the power and frequency based on the parameter readings (the lower the frequency the deeper the therapy). The ECO SCAN DETECTOR system operates optimally on both the fibrotic structure of the "fat" and the most superficial layers of the panniculus adiposus, without interfering with the vascular lymphatic system.
The patient can immediately get back to his/her normal daily activities.
The device is easy to carry.
All of the parameters are displayed on a generously-sized 10.1" touch screen.
The software is designed according to the Friendly Human-Machine Interface [FHMI] concept to make it intuitive and easy to use.
Power supply 100÷240 V, 50÷60 Hz
Max power consumption 450 W
Electrical safety class II BF
IP Protection rating IP40
Ultrasound frequency 28÷46 Hz settable from software
Ultrasound Power Density Max 3 W/cm2
1″ colour touch screen with embedded PC
Operating temperature 0÷40 °C
Operating humidity 30÷75% without condensation
Dimensions L 45 x H 96 x D 41 cm
Weight 10 kg
TOP QUALITY GROUP has devised various commercial offers, which can be customised according to specific needs