The effective technology for the treatment of stomatognathic system pathologies

Velvet TMJ FULL is the district technology with capacitive and resistive diathermy, electroporation and ablative radiofrequency. The device can be used in daily dental practice, for the treatment of TMJ disorders, in oral micro-surgery operations and in the treatment of pathologies in the physiotherapy field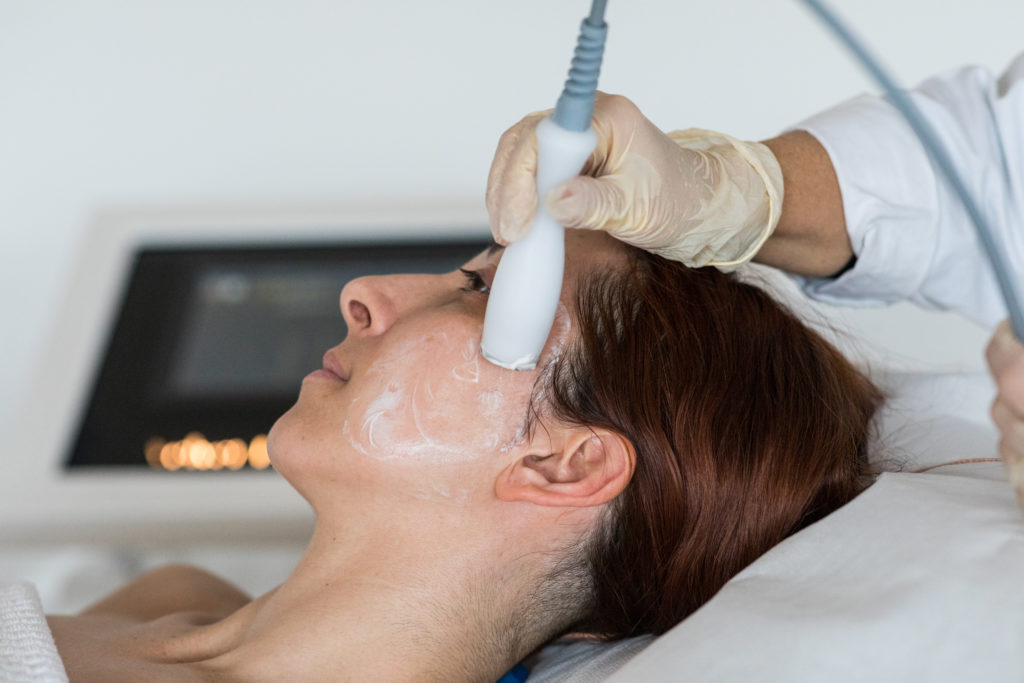 – No administration of anti-inflammatory medications through a systemic way but only a district way with a transdermal vehiculation through electroporation
– Preset programs for the stomatognathic system, osteoarticular and muscular disorders.
– Short term recovery of a good functionality (about 6/10 sessions in 4 or 5 weeks)
In addition to the Daily dental practice and TMD therapy, Velvet TMJ Full allows the following treatments:

Physiotherapeutic indications
Arthrosis
Sciatica
Lumbago
Other osteoarticular, ligamental, tendinous pathologies.
Oral Cavity Microsurgery
Mucocele / Fibroma / Epulis Removal
Clinical Crown Lenghtening
Frenectomy / Frenuloplasty
Gingivectomy / Gingivoplasty
Wart Removal
Cherry Angiomas Removal
Gum Bleaching
Herpes Simplex Treatment
CAPACITIVE AND RESISTIVE DIATHERMY
A non-invasive and painless method which helps increase blood circulation and vasodilation in the affected area, thanks to an applicator that can induce a temperature increase in the dermis, thereby guaranteeing minimisation of the symptoms that cause adverse effects in the patient from the very first treatments."
"PHYSIOTHERAPY
Velvet TMJ Full effectively and rapidly treats pathologies of knees, shoulders, hips, ankles, vertebral column, hands and muscles, as well as painful inflammatory, degenerative osteoarticular and muscular disorders such as arthrosis, low back pain and sciatica.
From the first application, tissue stimulation already produces a significant reduction of the symptomatology, increases blood circulation and oxygen tension in the treated area, generates vasodilation, reduces muscle contractures, facilitates the reabsorption of oedemas."
"ELECTROPORATION
A non-invasive and painless method that can be defined as a "virtual syringe": a particular electromagnetic pulse causes an active ingredient to be absorbed via the transdermal route without needles, thereby guaranteeing a higher concentration and efficacy of the beneficial effects solely in the affected areas."
"ABLATIVE RADIOFREQUENCY
Innovative method that represents the evolution of minimally invasive surgery. The technology uses a transducer that is fitted with a thin needle, generating micro-discharges able to vaporise the epidermis without reaching the dermis. It is extremely selective on target tissues and allows intervention on small blood vessels.
Feedback of the impedance of the treated area to adapt treatment parameters to the patient's individual conditions.
Option of setting two frequencies via software: 500 kHz for deeper pathologies and 1 MHz for more superficial pathologies.
Option of setting monopolar or bipolar mode via software without changing transducers.
Option of setting capacitive or resistive mode via software without changing transducers.
Capacitive transducer without epoxy coating.
All of the parameters are displayed on a generously-sized 10.1" colour touch screen.
The software is set up according to the Friendly Human-Machine Interface [FHMI] concept to make it intuitive and user-friendly.
Power supply 100÷240 V, 50÷60 Hz
Max power consumption 450 W
Electrical safety class II BF
IP Protection rating IP40
Max RF output power 150 W @ 50 ohm
RF Emission Frequency 500 MHz, 1000kHz settable from software
Capacitive/Resistive emission type
Monopolar / Bipolar functions
Max electroporation voltage 120 V @1000 ohm
Electroporation impulses 1÷3000 Hzsettable from software
Complex electroporation wave formsettable from software
1″ colour touch screen with embedded PC
Operating temperature 0÷40 °C
Operating humidity 30÷75% without condensation
Dimensions L 45 x H 96 x D 41 cm
Weight 7 kg
01 power cable
01 elastic band
01 TMJ transducer
01 small district diathermy transducer
01 big district diathermy transducer
01 intraoral diathermy transducer
01 steel plate
01 steel plate cable
01 cable for electroporation
01 electroporation transducer
01 deer plate electroporation
01 Ablative Radiofrequency transducer
05 single-patient needles
TOP QUALITY GROUP has devised various commercial offers, which can be customised according to specific needs