Velvet Skin Tec is the device of the Top Quality Group Velvet Skin line that can be used both in the aesthetic-medical and physiotherapy fields. The equipment is designed according to the latest technical and scientific knowledge, and implements two innovative technologies that have been tested extensively. Velvet Skin Tec allows non-invasive and completely painless treatments to be carried out, which guarantee the patient significant improvements in terms of facial skin rejuvenation and body remodelling, while also treating specific physiotherapy indications.
Capacitive and Resistive Radiofrequency,
and Electroporation in Aesthetic Medicine and Physiotherapy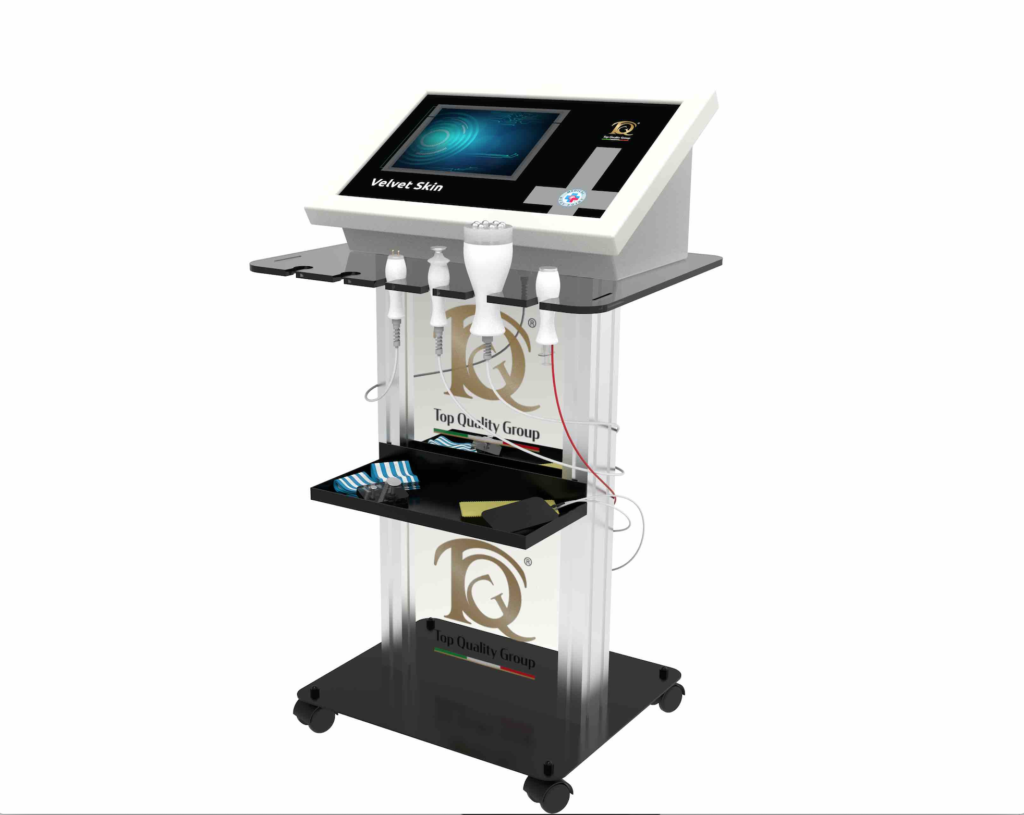 Wrinkles, micro wrinkles, acne, muscle hypotonia, cellulite, sagging, localized adiposity, stretch marks, crow's feet, skin texture imperfections, skin dehydration and laxity of the chin and cheeks.
Physiotherapy use: arthrosis, lumbago, sciatica and other osteoarticular, ligament and tendon pathologies.
Radiofrequency
It is a non-invasive method that effectively counters signs of skin ageing and assures lasting improvement of the skin on the body and face. The device comes with an applicator capable of inducing an increase in the temperature of the dermis, which stimulates the production of new collagen thus ensuring regenerative effects on the treated area visible from the very first treatments.
The treatment is painless
It lasts between 30 and 40 minutes and a pleasant sense of heat is felt
The remodelling and toning of the tissues will be visible after the very first session
The results will last over time, even when the treatments are finished
In physiotherapy, increased blood circulation and vasodilation in the affected area are induced. Arthrosis, lumbago, sciatica and other osteo-articular, ligament and tendon pathologies can be treated; from the very first application, tissue stimulation guarantees a significant reduction of the symptomatology.
ELECTROPORATION
It is a non-invasive and painless technology that can be defined as a "virtual syringe". A particular electromagnetic pulse acts so that an active principle is absorbed transdermally without needles, guaranteeing a higher concentration and efficacy only on the affected areas.
-Power supply 100÷240 V, 50÷60 Hz
-Max power consumption 450 W
-Electrical safety class II BF
-Protection rating IP IP40
-Max RF output power 150 W @ 50 ohm
-RF emission frequency 500 kPlz, 1000 kHz settable from software
-Type of emission Capacitive/Resistive
-Monopolar / Bipolar RF functions
-Max electroporation voltage 120 V @ 1000 ohm
-Electroporation impulse freq. 1÷3000 Hz, settable from software
-Complex electroporation wave shape, settable from software
-10.1″""" colour touch screen with embedded PC
-Operating temperature 0÷40 °C
-Operating humidity 30÷75% without condensation
-Dimensions L 45 x H 96 x D 41 cm
-Weight 7 kg
Feedback of the impedance of the treatment area to adapt the treatment parameters to the individual conditions of the patient.
Possibility of setting two frequencies through the software: 500 kHz for pathologies at a greater depth and 1 MHz for more superficial pathologies.
Possibility of setting monopolar or bipolar mode on large areas through the software without changing transducer.
Possibility of setting capacitive or resistive mode through the software without changing transducers.
Capacitive transducers without epoxy coating.
Pre-set programmes according to pathologies and areas.
Possibility of sterilising the transducer for electroporation in autoclave.
All of the parameters are displayed on a 10.1" colour touch screen.
The software is designed according to the Friendly Human-Machine Interface [FHMI] concept to make it intuitive and easy to use.
01 power cable
01 elastic band
01 monopolar face and physiotherapy RF transducer
01 face electrode size 10mm
01 face electrode size 25mm
01 plexiglas facial electrode case
01 mono and bipolar body and physiotherapy RF transducer
01 steel plate
01 facial bipolar RF transducer with 2 retractable tips
01 medical electroporation transducer
01 buckskin plate for electroporation
03 5 ml Pic syringes
01 RF cable kit
01 Electroporation cable kit
TOP QUALITY GROUP has devised various commercial offers, which can be customised according to specific needs