Air Defence Move is the germicidal lamp designed to limit and eliminate the risks of airborne contamination; using 6 UV-C lamps, it destroys micro-organisms in the air, thereby allowing all the environments which we work and live in to be sanitised and made much safer.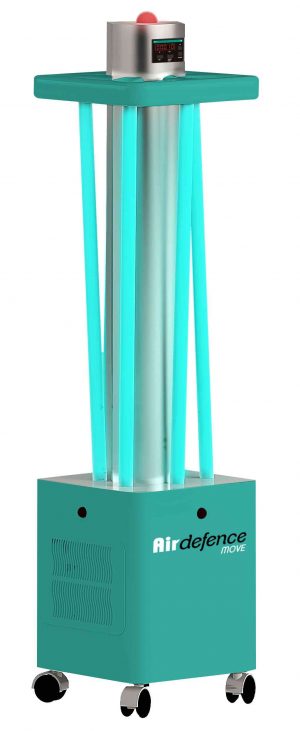 The effectiveness of Air Defence Move sanitation is guaranteed by the 6 integrated UV-C lamps. In particular, 90% of the UV radiation emitted by these lamps is 254 nm, which is a scientifically recognised wavelength that is very effective for disinfection; this radiation, in fact, destroys micro-organisms by changing the genetic information contained in their DNA, thereby guaranteeing a reduction of 99.99%.
The 6 lamps are mounted vertically, tilted alternately, to direct the germicidal emission better. The central column behind the lamps is made of reflective 430 steel, with a parabola effect to maximise the energy.
Air Defence Move can only be operated in empty spaces, with no people present. The timer and switch-on are found in the top part of the structure; when it is activated, it gives the operator time to leave the room, before turning on (programmable).
Air Defence Move purifies 30 m2/15min.
The inactivation of 99% of viruses is achieved with a UVC dose of 90 Joules. Reach and operate Air Defence Move by complying with the following table and using the indicated times.

For larger areas, we suggest running two sanitation cycles, ideally dividing the area into several parts and moving Air Defence Move to the centre of each.
– Particularly suitable for structures that are open to the public, to sanitise several areas every day.
– Integrated safety system:
timer with delayed switch-on;
presence detectors;
flashing light warning (sanitation process in progress).
– Automatic lamp switch-off at the end of the sanitation process.
– Its portability makes it particularly useful, fitted with non-marking wheels with brakes to be positioned correctly.
– 6 x 55 Watts UV-C lamps
– Supporting column with reflective surfaces
– External body in steel 430
– Control timer with delayed switch-on
– Safety switch-off with 5 person sensors
– On-off operation
– Power supply with electronic ballast for UV-C lamps
– Ambient temperature: ‐10°C to +55°
– Lamp life expectancy is 9000 hours
– Size L35 A130