Air Defence Cabinet is the germicidal cabinet designed to fulfil the constantly growing disinfection requirements in the professional and healthcare sectors. It is fitted with 9 UV-C lamps divided into 3 levels and positioned so as to irradiate all surfaces to be disinfected without shadow areas.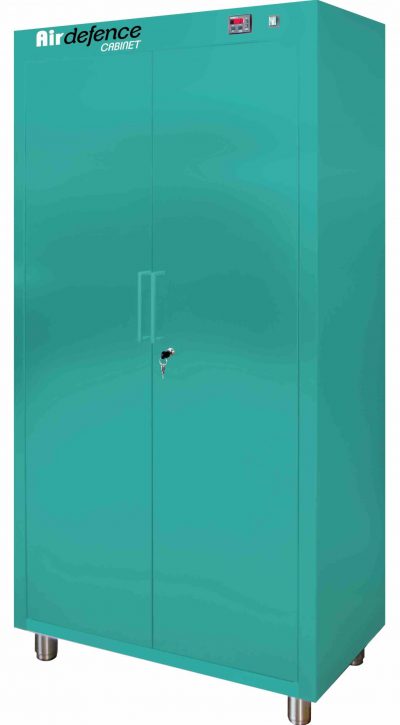 The effectiveness of Air Defence Cabinet sanitation is guaranteed by the 9 integrated UV-C lamps. In particular, 90% of the UV radiation emitted by these lamps is 254 nm, which is a scientifically recognised wavelength that is very effective for disinfection; this radiation, in fact, destroys micro-organisms by changing the genetic information contained in their DNA, thereby guaranteeing a reduction of 99.99%.
Air Defence Cabinet sanitises equipment and the air while it operates. In fact, in addition to the air, virus and bacterial spores can be transported by commonly used objects and instruments. Equipment, instruments and everything that is placed inside the Air Defence Cabinet is disinfected within a few minutes. Furthermore, an air flow is directed therein and subjected to the radiation of the lamps before being directed back into the environment; thanks to this system, it performs a constant germicidal action, eliminating the microbial load.

99% of the bacteria on the contents inside the cabinet are eliminated within just 15 minutes of operation
– The internal surfaces are coated with reflective steel, which is easy to clean and designed to reflect the emission of germicidal UVC, thereby increasing the power of radiation and significantly lowering the necessary exposure times to achieve 99.9% disinfection.
– The sanitation process is simple, immediate and safe, without generating heat, without liquids and chemicals being used and without the slightest contraindication.
– The same results can only be achieved with chemical products and compounds, which are harmful to health and the environment, besides being expensive and difficult to use.
– The cabinet has a safety system that automatically switches off the lamps when it is opened.
– 9 x 25 Watts UV-C lamps
– Sequential air circuit in a germicide chamber
– Germicidal internal chamber in reflective surfaces
– External body in lacquered and powder coated aluminium
– 24/7 continuity of treatment – Operation mode start and stop timer
– Power supply with electronic ballast for UV-C lamps
– Ambient temperature: ‐10°C to +55°
– Size L100 A200 P50